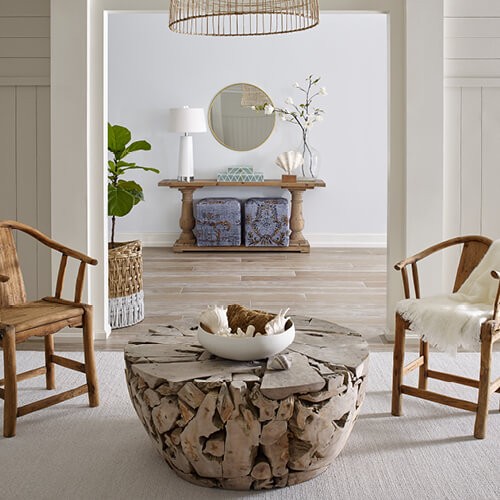 First comes the backing layer, which mainly adds balance and helps to seal away moisture. This layer is often a built-in underlayment substitute. It's also known as the stabilizing layer. Next comes the bulk of the laminate. This is some sort of high-density material known as the core board that gives the plank its strength and stability. Then, there's the photographic image decorative layer, which incorporates a high-quality image of hardwood or tile. Finally comes a top wear layer that protects against scratching, UV damage, and staining.
Laminate Styles
With so many different laminate looks and styles to choose from, the possibilities are endless. Hover over the images to learn more about each unique style.
Hand-Scraped

Hand-scraped laminate planks closely imitate the look of genuine hand-scraped hardwood. The texture, look, and feel is nearly identical and often indistinguishable! 
Speciality Wood

Laminate flooring can be manufactured to resemble exotic wood species that are found around the world. It's the perfect solution if you have expensive tastes but want to stay within a budget!
Traditional Wood

With traditional wood style laminate, it's easy to get the natural beauty and versatility of real hardwood without the cost and upkeep. You'll hardly be able to tell the difference!
Natural Stone & Tile

When made to resemble natural stone and ceramic tile, laminate effortlessly elevates bathrooms, kitchens, basements, and more. It's every bit as beautiful without the challenging and messy installation!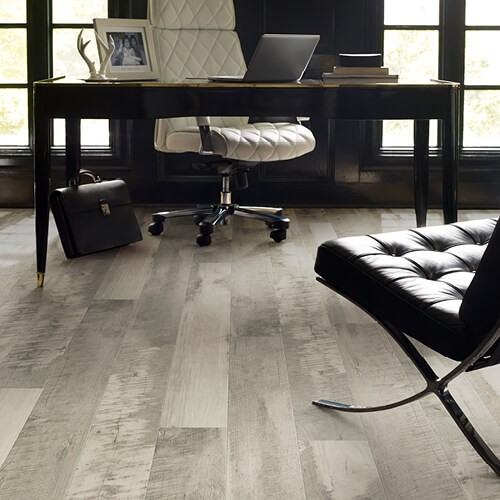 Need inspiration?
See our laminate inspiration gallery!
Take a look at the latest trends in both wood and stone look laminate now.
Want to learn more about laminate flooring?
Give us a call or visit our showroom today!